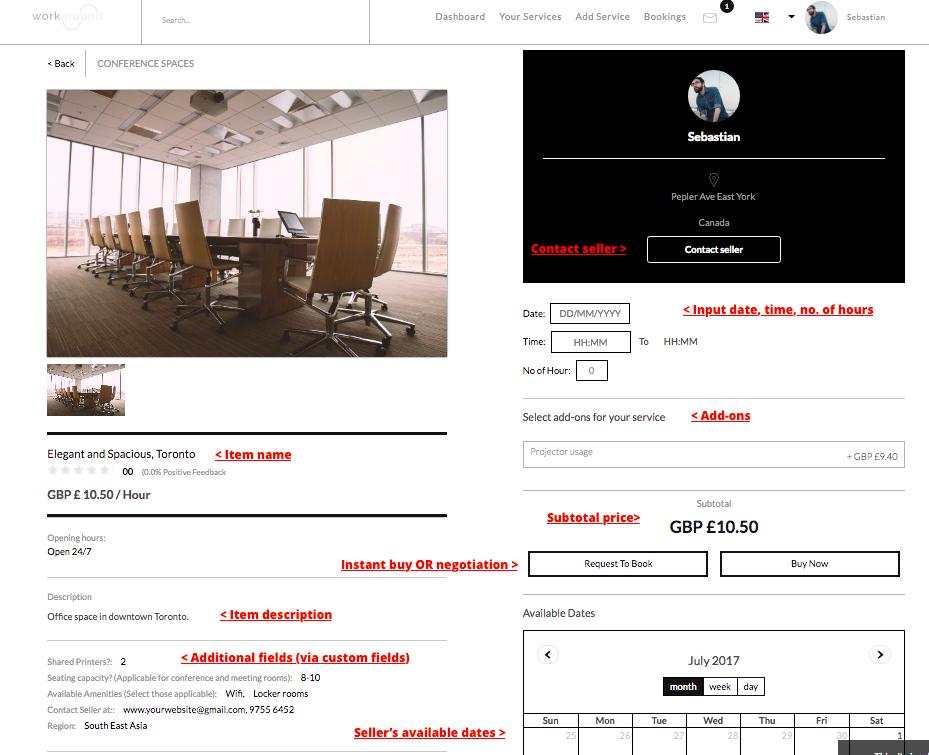 Calendar tool
If you are using our service booking, space or goods rental marketplace, sellers will have the option of indicating their date/time of availability with our calendar tool. Sellers will be able to make specific dates or time unavailable for bookings whenever they upload a listing.
To do so, they can select their start date and end date, and click Block this date/time. In the screenshot above, the seller has set dates from 28/10/16 to 01/11/2016 to be unavailable for bookings.
This will then be reflected on the calendar when users click on a listing, where the seller's unavailable dates will be blocked out.
Similarly, if a seller has confirmed bookings for a specific item, it will also be reflected on the calendar. This avoids the problem of double bookings by multiple buyers.
The green coloured dates indicate that there are bookings on that day. You can also switch the calendar view to 'day' in order to see the booking for that day.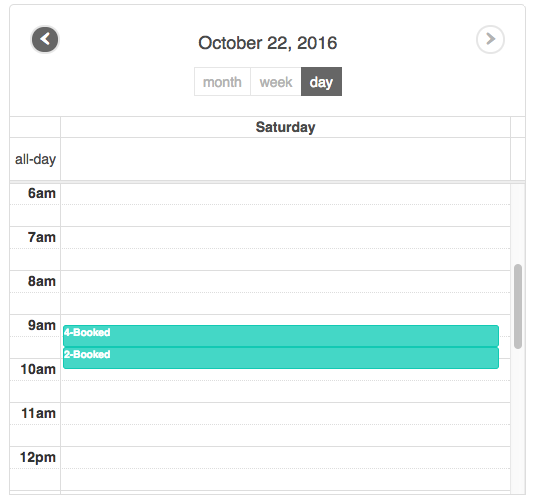 Alternatively, sellers also have the option of making a listing available 24/7 under the 'schedule' section of the listing upload page. This will make your listing bookable at any time of the day.


We have received requests from our users, wanting to make specific hours of the day unavailable. We have heard your request and are working on making this feature available soon!
Booking sessions
A seller can limit the number of bookings per session during a listing upload by stating the maximum number of bookings allowed under Maximum bookings per session. Any bookings will validate against the time availability and booking sessions to avoid multiple booking sessions by a buyer.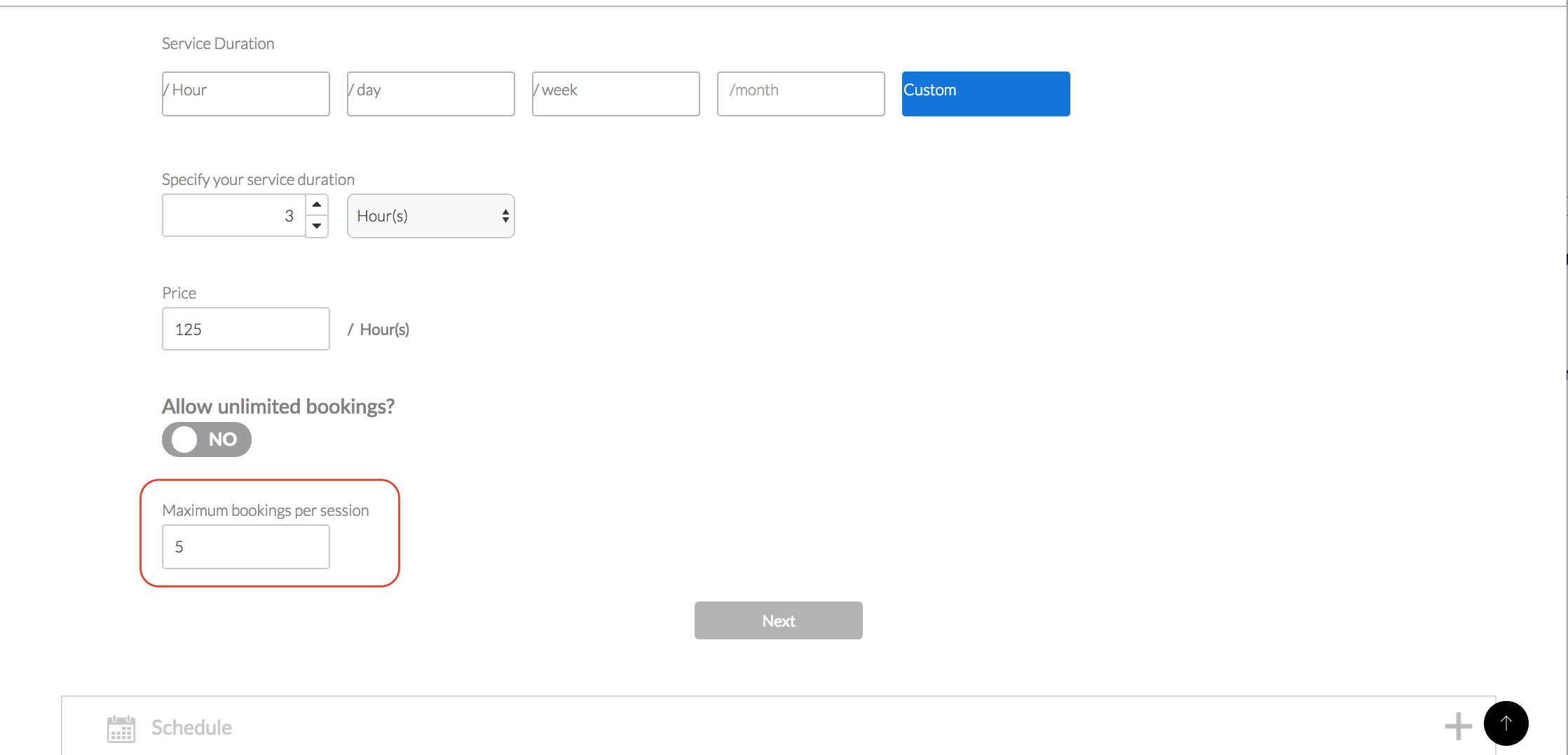 Do note that, for hours, the minimum for booking is: 1 hour, and the maximum is: 12 hours, while for minutes, the minimum for booking is: 15 minutes, and the maximum is: 150 minutes.
Since our new feature release (June 2017), sellers can now change their service duration to /night if they offer their service/rental overnight.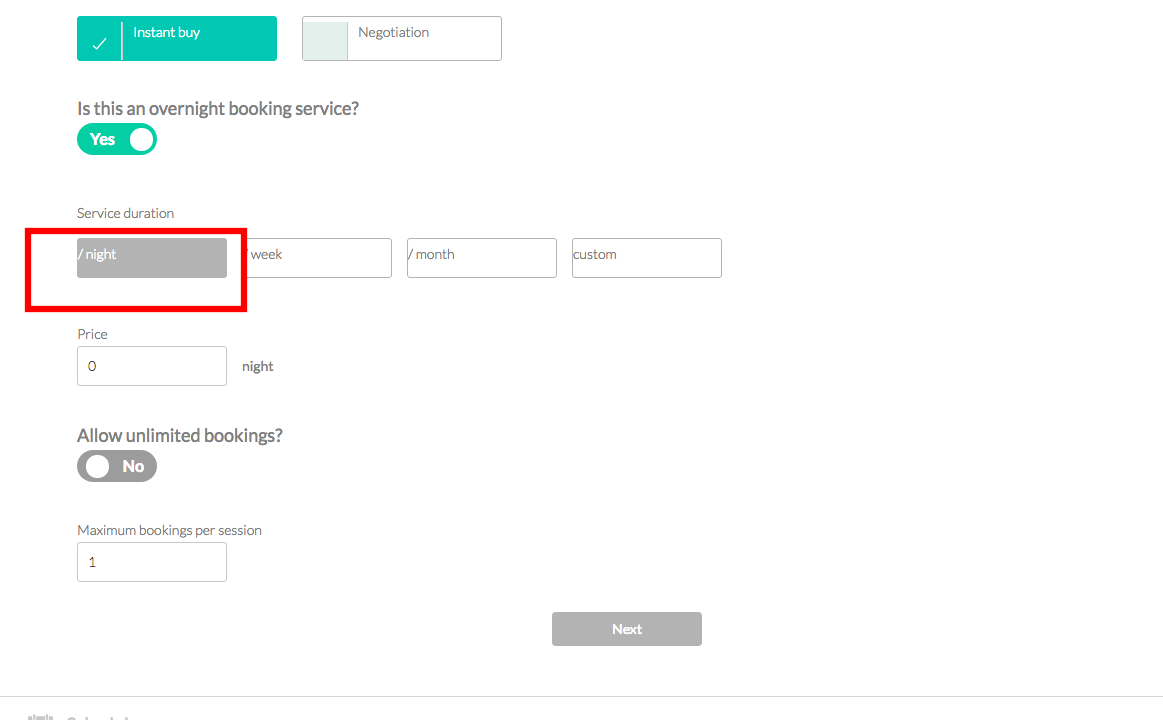 Add-ons
As part of the uploading process, sellers are able to offer additional services for an extra cost (surcharge). For the uninitiated, add-ons are additional services that your seller can provide at an additional cost on top of the main service (e.g. a hair wash on top of a haircut). To add them, simply go to Additional Services/Details under the specific listing, insert the title and surcharge of the add-on and finally click Add.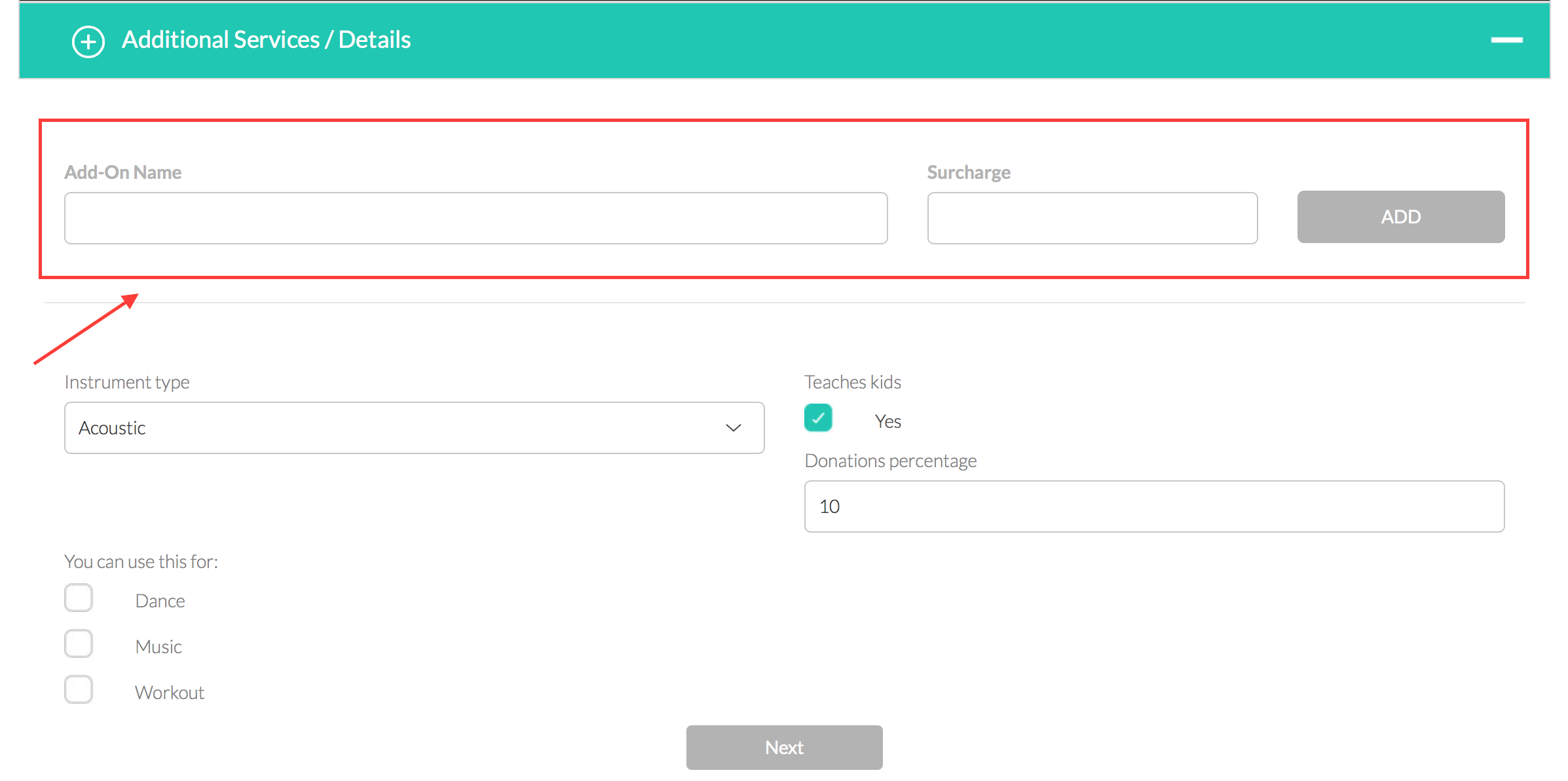 You can add on multiple services and re-arrange their order by moving them up and down.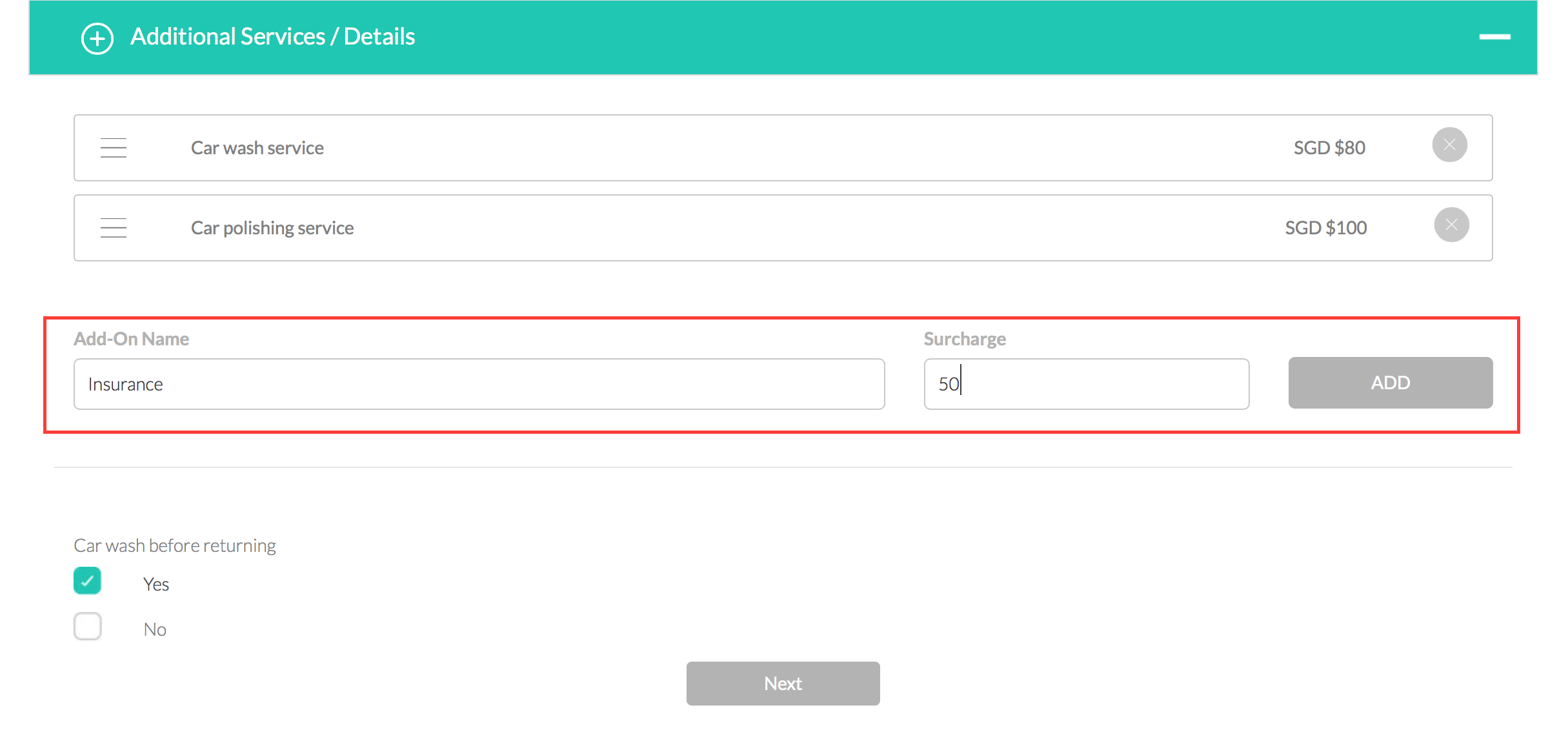 Instant buy and negotiation
During the uploading process of a listing, under Basic details, there is an option for sellers to allow buyers to either purchase their listing instantly under Instant buy and/or allow for negotiation under Negotiation.

Instant buy will allow buyers to Book now while negotiation offers buyers the chance to negotiate with the sellers under Request to book. When a buyer requests to book, they will be able to chat with the seller (in the marketplace) to negotiate a new price. Do refer to the article here for more details about this process.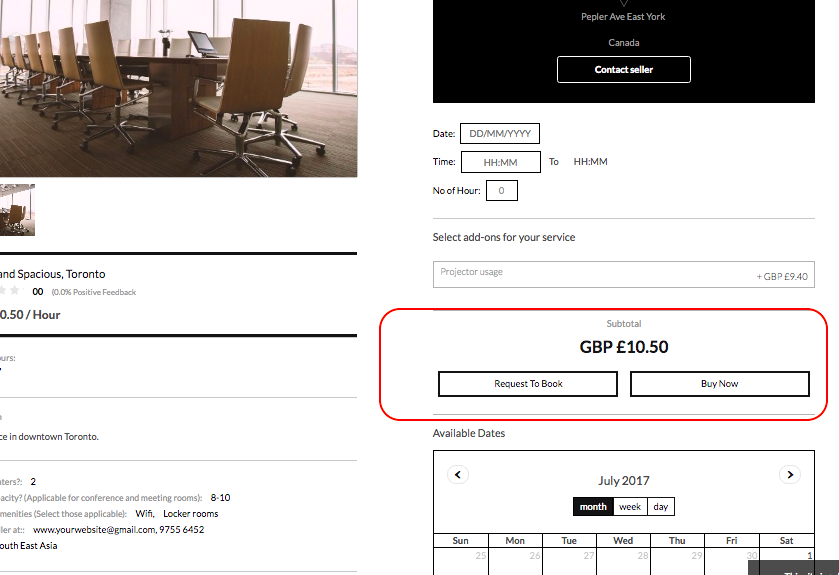 Location
During the uploading process, the seller will also have to input the city, country, zip code, as well as location on Google Maps. This allows buyers to locate where their service/rental space is located.