Here at Arcadier, we are constantly listening to our customers and understanding their needs. As such, we are always rolling out new features on our marketplaces, and always taking your feedback into consideration to ensure we are delivering what you need and want.
You can know more about what Arcadier does by clicking on this video link.
All-round account portals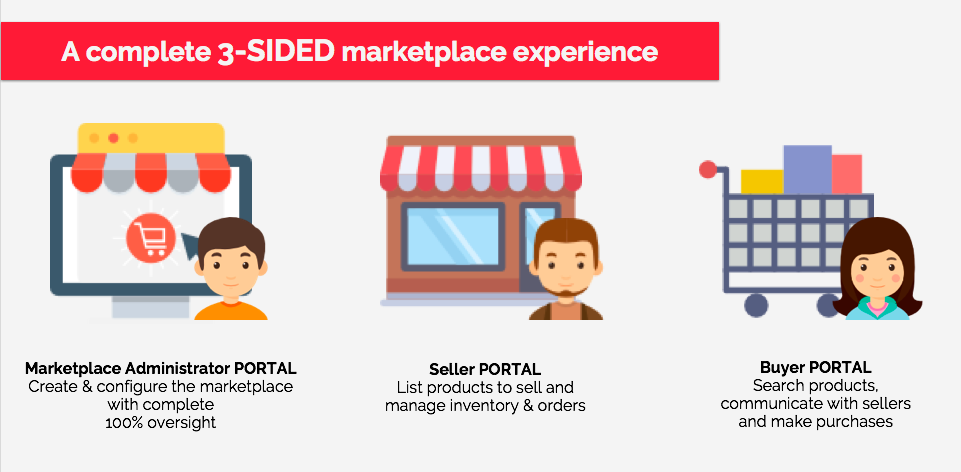 Customisable homepage
Arcadier Marketplace's customizable homepage allows marketplace admins to customize various visual features of their marketplace to their liking, and to include additional information about their marketplace apart from product categories. These customizations allow for a greater degree of differentiation between marketplaces and are powerful tools for marketplace admins to personalize their sites. Create a unique brand experience for your users by utilizing these tools to make your site more informational and unique. You can access the homepage editor in your admin dashboard.
For more information on how to use this feature, check out our guide here: https://www.arcadier.com/learn/guides/exploring-arcadiers-features/arcadier-s-landing-page-features-guide
Admin Control
As the admin of your marketplace, you will have full control over the content, layout and your users (buyers and sellers). In your admin dashboard, you are will be able to manage the content (images, texts, categories, fields), layout (panels) as well as your buyers and sellers (grant/deny access to users, edit listings on behalf of your sellers).
You will also be able to be a seller on your own marketplace from the admin portal.
Mobile optimisation
All packages under Arcadier's online marketplaces also support mobile optimization to allow easy browsing on your mobile devices.
If your marketplace requires a mobile application, you may want to consider our enterprise package so our Expert Partners can meet your needs.
Analytic capabilities
Currently, our subscription packages come with a basic reporting dashboard and allow you to input your Google tracking ID and link your Google Analytics account to your online marketplace. Some of the analytics in your reporting dashboard includes sales performance for merchants, as well as merchant performance and sales activity reports for marketplace operators.
Should you require more advanced analytics capabilities, fret not!
If you require auxiliary services such as this one, do refer to our growing list of affiliate partners where they offer 3rd party services for your business needs here: https://www.arcadier.com/affiliate_partners.html.
Third-party integration
Currently, Arcadier comes pre-integrated with Stripe and PayPal as payment processors. We offer an open socket for you to integrate any other generic payment processors of your choice using our generic payments feature, such as Adyen, Braintree, Yandex, etc. If you are looking for any other type of integration, do consider joining us as an enterprise client where you will be able to create a complete bespoke marketplace
Whatever your needs may be, Arcadier has a growing list of Expert Partners that will help you with your marketplace needs. If your business already has its own online systems, we are also able to do the integration for you.
Contact us at http://arcadier.com/contact.html, and we will advise you on how we can move forward with this integration process.
Alternatively, you can refer to this video link which will explain the flow of payment for the payment integration that you have chosen.
Multi-lingual capabilities
Here at Arcadier, we continuously upgrade our translation capabilities. Currently, we are able to support all ISO 639-1 languages, and this is done through using Google Translate API. You can also edit the translations to contextualise it to suit your marketplace needs.
This will allow your marketplace to be multi-lingual, enabling your marketplace to go global. Wherever your marketplace is for in the world, Arcadier will be able to support you.
White-labelling
If you have a custom domain, you are able to use your domain for your Arcadier marketplace. This feature is available for all our subscription packages where Arcadier will be white-labelled as such; www.thebookstore.com instead of https://thebookstore.arcadier.io.
Do note that this will not apply to the payment checkout page as this ensure payment on your marketplace remains secure (if you use a custom domain and do not have an SSL certificate).
Marketplace Security
All marketplaces built with Arcadier are fully hosted in our servers as well as SSL certified, ensuring that your site is safe and secured (even when it comes to payment on your marketplace).
If you are using your custom domain, you can either add your own SSL certification or purchase one with us at $59 (standard SSL). Do refer to the Domains section of the help centre for more information.